"Why Should I Insulate My Home?" – An Introduction to Insulation
Although insulation is an important element of building, it is often the least understood. Many people aren't aware of the multiple places energy is lost in a home. As an Owens Corning® Certified Energy Expert®, we understand the science behind the building envelope. So, you can turn to us to learn more about insulating your home.
Reasons to Insulate
Insulation lays a foundation of energy efficiency for residential, commercial and industrial structures. It is one of the most cost-effective ways to save energy and reduce monthly energy bills. Whether you are remodeling a home or building a new business, well-installed insulation offers many short-term and long-term advantages:
Increased, more consistent interior comfort
Reduced energy usage
Lower heating and cooling costs
Less wear and tear on HVAC equipment
Reduced noise transmission for a quieter space
Improved air quality
Reduced moisture intrusion
Less overall environmental impact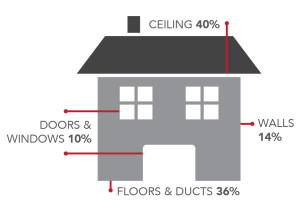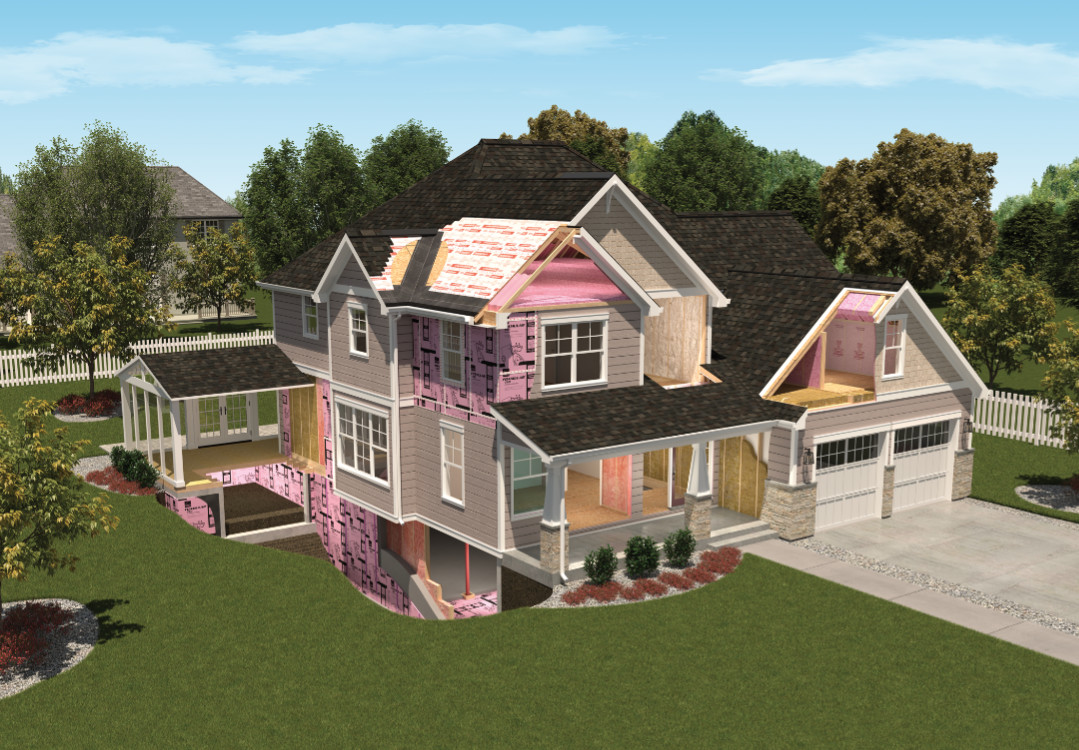 How Insulation Works
Heat flows from higher temperature areas to lower temperature areas, creating temperature fluctuation within a space. Insulation wraps your home in a protective blanket, reducing heat flow in order to keep the heat out during warmer months and the heat in during cooler months.
Insulation is an excellent noise absorber and helps to reduce sound transmission from both outside and within a home, creating a quieter space with less reverberation. Insulation also allows other energy-efficient components, such as air sealing, to do their job, forming a comprehensive insulating system that helps maintain consistent temperatures and moisture levels, reduce energy usage and increase monthly energy bill savings.
What Is R-Value?
The "R" in R-value stands for resistance to heat flow. The higher the R-value, the higher the level of resistance and the greater the insulating power. R-value requirements vary depending on climate and building type.
Below is an example of how R-value relates to the amount of insulation used in a typical attic. The thicknesses listed are for Owens Corning PROPINK® L77 Loosefill Insulation blown in the attic and not a general rule of thumb for any other brand/type of insulation in any other areas/applications. New Prairie Insulation can provide you the correct amount of insulation for your project and the R-value you want to achieve.
Blown Fiberglass
| | |
| --- | --- |
| R-value | Minimum Thickness (in) |
| R-13 | 4.75 |
| R-19 | 7.00 |
| R-22 | 8.00 |
| R-26 | 9.25 |
| R-30 | 10.5 |
| R-38 | 13.25 |
| R-44 | 15.00 |
| R-49 | 16.75 |
| R-60 | 20.00 |
Where to Insulate
Insulation should be installed in the walls, floors, attic space, basement and crawlspace. A more detailed list includes:
Ceilings with unheated spaces above, including dormer ceilings
Knee walls of attic spaces finished as living areas
Sloped walls and ceilings of attics finished as living areas
Cathedral or vaulted ceilings
Around perimeters of slabs
Floors above vented crawl spaces
Floors over unheated or open spaces such as over garages or porches
Basement walls
Band and header joists
Interior walls, ceilings or floors where extra sound control is needed
Floors over unconditioned basements
Insulation Types & Materials
Insulation is manufactured in a variety of forms and materials to suit a range of efficiency, structural and budgetary needs. Each option brings its own level of durability, versatility, R-value and cost. Typically, New Prairie installs fiberglass batts, loosefill insulation or spray foam—depending on the project scope.
How Much Insulation Is Enough?
The amount of insulation needed varies depending on location, building type and materials. Click here for more information about R-value requirements in our region.
Things to Consider When Insulating
What type of insulation is being used?
Does the insulation meet or exceed local building codes and national recommended insulation levels?
How effective is the insulation (thermal performance, acoustical performance)?
Is the insulation resistant to moisture, fire and settling?
Is the insulation material safe and sustainable?
Is the insulation cost effective?
New Prairie Insulation can discuss these factors and more with you to help determine the best solution for your home.
Your House as a System
Though insulation is one of the most essential and cost-effective ways to create overall efficiency, there are many factors to take into consideration. Insulation and air sealing combined with energy-efficient appliances, windows, doors, lighting and HVAC equipment build a whole-house efficiency system that will prove beneficial throughout the year and for years to come. We can work with you to determine the best way to reach optimal energy efficiency in your home.
If you still have questions, we have answers! Visit our Insulation FAQs page for even more information.
If you'd like to receive a free estimate for your insulation project, contact us.